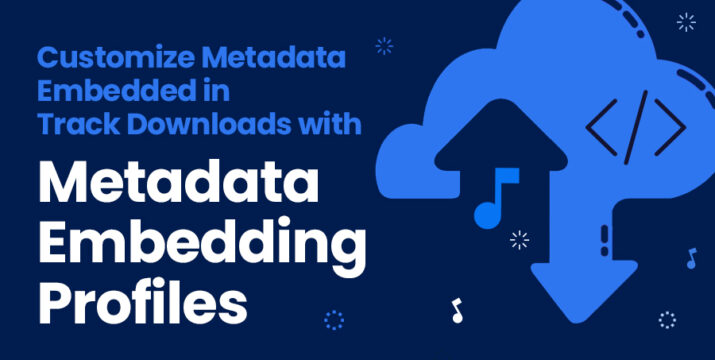 Customize Metadata Embedded in Track Downloads with Metadata Embedding Profiles
All your essential information, embedded into every track download. SourceAudio Metadata Embedding Profiles allow site administrators to tailor their metadata embedding specifications for each of their users. 
Maintain Thorough Metadata for Embedding With Powerful Editing Tools
Embedding complete metadata starts with keeping your site's tracks thoroughly tagged.
The metadata embedded in downloaded tracks is pulled from your site in real-time at the time of download, so embedded data is always up to date with all your latest changes.
Alternatively, you can always opt to ignore all on-site metadata so that your tracks are downloaded with the exact metadata they were uploaded with. Just head to Admin Panel → Manage Metadata → Downloading → Metadata Injection. Catalogs checked off in this section will be downloaded with up-to-date metadata from your site. Catalogs unchecked will be downloaded with the exact embedded metadata they had when uploaded. Click to save at the bottom of the section after making any changes.
Read our article on metadata essentials for a complete guide to the fundamentals of your tracks' metadata.
Metadata Embedding Profiles
For any catalog that has Metadata Injection enabled, you can set exactly how metadata is embedded using Metadata Embedding Profiles and Music Access Filters.
To adjust these settings, head to your Admin Panel → Manage Metadata → Downloading → Metadata Embedding Profiles. Here you'll find the SourceAudio Standard embedding, active by default on all tracks and users when Metadata Injection is engaged, as well as the tools to create custom Metadata Embedding Profiles.
To customize embedding settings, click to create a new embedding profile, click the double paper icon to make a copy of any currently existing profile, or click the pen/paper icon to edit any existing custom profile. Once you're editing a profile, use the dropdowns to select which SourceAudio metadata fields will embed into each ID3 standard embedding field and save in the bottom right. These ID3 tag standards ensure that your embedded data is readable by all ID3 tag compliant software such as iTunes, Winamp, Windows Media Player, Soundminer, and more. 
Finally, link your Metadata Embedding Profiles to your Music Access Filters to activate them. Head to your Admin Panel → Manage Users → Music Access Filters, then edit your Music Access Filters by clicking the pen & paper icon, then adjust the Metadata Profile drop-down, and save.

The metadata that embeds on the tracks a user downloads will conform to the settings of the Music Access Filter they're using and the corresponding Metadata Embedding Profile assigned.
Site administrators also have the option to download samples of any embedding profile or non-embedded files by going to any track detail page → Edit Track Metadata → Edit (on the Download Now section), and choosing a download option.