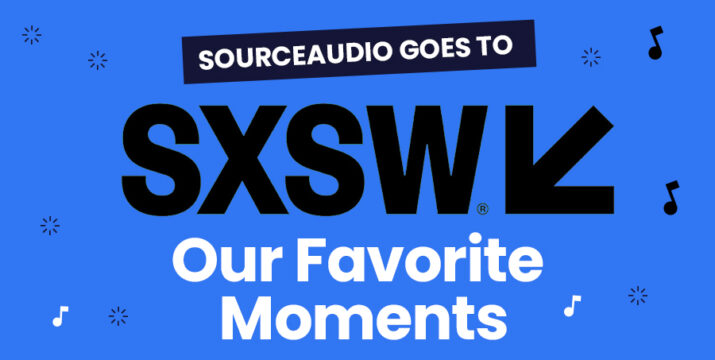 SourceAudio Goes to SXSW: Our Favorite Moments
We headed to beautiful Austin, Texas for an incredible week of panels on music, media, and emerging technologies.

Music for Ad Agencies and Brands with Music Supervisors Johanna Cranitch, Lilah Obregon-Wilson, Todd Porter, and Elijah Torn
Bringing together a wide range of experience from agencies as well as freelance work, this panel of four experts delivered valuable information on breaking into the word of sync as a rights holder, how to stay in the good graces of all your music supervisor clients, and plenty more essential information.
Among the most useful lessons from the panel was an emphasis on the importance of respectful persistence with your pitching. Consistency and checking up is a crucial part of the equation, just be sure not to become a nuisance by overdoing it. Another seminally important tip is to be aware of everywhere your music is being used, as some large scale placements often want to license exclusive use of a track for a set amount of time, an asset which can be leveraged for a much bigger licensing fee.
Ultimately, a common theme that music supervisors love to see with their suppliers is transparency. As Elijah put it, it's better to ask a seemingly silly question early on than have to share some piece of information down the line that could make the supervisor's job much more difficult.

Web3 and DAOs with Water & Music Founder Cherie Hu, Big Green DAO Founder Kimbal Musk, Russian Protest Musician Nadezhda Tolokonnikova, and "Mayor" of the World's Largest DAO Michael Zhang
DAOs (decentralized autonomous organizations) are online organizations run on the blockchain designed for transparency and the democratization of influence. That's our take from what the experts said, but their exact definition has actually been the subject of much debate. In 2014 Vitalic Buterin founder of Ethereum, famously said that a DAO is "innovation at the center and humans at the edges." Since then however, the most prominent DAOs have shifted their focus to their human impact. DAOstar, part of the Meta-Governance Project, took four months to deliberate on its working definition of what a DAO is, and settled on three essential elements.
1. A unique cryptographic address for each member
2. "Behaviors" which are smart contract actions for things like transfering funds from one wallet to another
3. "Proposals" that can be voted on, and, if passed, become behaviors
The result: fluid membership structures and direct support of community initiatives with minimal administration, driven by token-based compensation for labor that can otherwise fall through the cracks in a web2 organization. One example given of a system benefiting from DAO technology was the peer review system, which Harvard alumni Ho says today is "very very fraught", and completely lacking in transparency, with no way to review the credentials of the individual reviewing your paper. As such, there are many DAOs looking into making that review process more transparent and creating a compensation system.
Of course the music industry was another example, an ecosystem with "an entrenched history of information asymmetry" where certain people, typically artists, aren't able to access the information they need to find out how much they're earning from certain services or what kind of tools would be best for them to use for their careers. DAO technology aims to change that.

NFTs with Former Global Head of Digital Marketing for Nike, Revlon, and Estee Lauder Swan Sit
The inescapable hype of NFT was everywhere at SXSW, and if you haven't read our first blog on the NFT space, check it out here.
Swan offered a unique take on NFTs from her fortuitous marketing experience. NFTs are about more than a highly lucrative creative opportunity, they're also about being part of a cultural movement. When Adidas launched their series of NFTs, they became part of the conversation surrounding a technology that may very well become the largest tool for financial democratization in our lifetime.
NFTs aren't just a savvy financial move. By stepping into this space, the creator becomes a part of this legacy.

Performance Royalties with PRS Chairman Nigel Elderton, Songtrust President Molly Neuman, Multi-Platinum Selling Songwriter Pamela Sheyne, and Cliff Fluet of Lewis Silkin LLP
In this expert panel, industry veterans described the history and current state of public performance royalties which have long been a critically important income stream for songwriters and rights holders.
PRS, founded in 1914, and the other PROs have continually worked to adapt to the state of music consumption from sheet music to phonograph, to radio, to TV and film, to CD and MP3s, and on and on. At each juncture, they've had to grapple with a new set of rules as copyright law catches up and adapts.
Currently, PRS is working to manage exponential growth in the volume of music usage that they process, which is doubling every year, as well as the ever fragmenting landscape of where music is used. Last year they processed 22 trillion lines of data, which Nigels says puts them about on par with Visa.
PROs have never been equipped to deal with that much data, so PRS has partnered with Swedish and German PROs STEM and GEMA, to develop ICE, international copyright enterprises, to process this massive amount of data. Also in development is ICE Cube, a multi transactional database for licensing multiple rights across multiple databases
For more information on ICE, which bills itself as "the world's first integrated licensing and processing hub," check out the PRS's write up here.

AI and the Necessity of a Strong Human Component with MIT Professor Rene Richardson Gosline
Career title name shared a visceral and timely message of warning with her audience with regards to technology's race to a completely "frictionless" life, which relies more and more on the algorithm to make our choices for us. Her talk, titled "In Praise of Friction", explored how, thanks to the algorithms in the apps that power our day to day lives, we make decisions very quickly as information is rapidly presented at our fingertips. As we shift to impulse driven thinking and lose more of the slow thinking processes that once constituted the norm, the algorithm gains more and more power in determining the course of humanity as a whole.
This fact becomes dangerous because of implicit bias present in all artificial intelligence. As algorithms decided who received ventilators and who didn't during the worst days of the Covid pandemic, Professor Richardson remains grateful that the algorithm did not determine her own fate. Growing up an economically disadvantaged woman of color, she says that AI would not have considered her a logical candidate to achieve the success that she has.
Diffusion of responsibility is the end result of a system where AI plays too great of a rule, a situation in which humans can make unethical choices based on input from an algorithm and never experience the personal responsibility that would drive them to make the correct choice – e.g. "I just did what the computer said".
Professor Richardson voiced that AI certainly has the power to enrich our lives when used in the proper capacity, but systems of checks and balances must be put into place to preserve the humanity of our world.