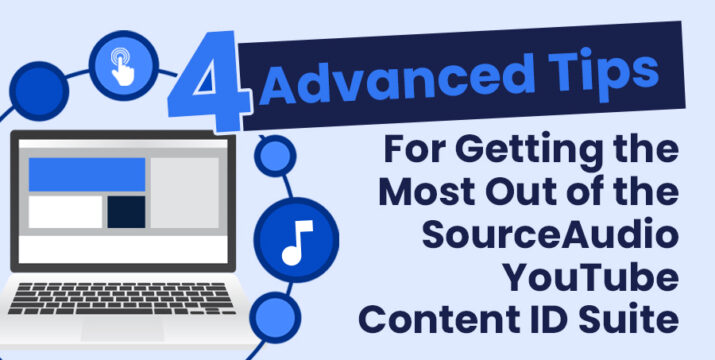 4 Advanced Tips for Getting the Most Out of the SourceAudio YouTube Content ID Suite
Our feature-rich Content ID suite provides powerful tools for all facets of your YouTube department's operational needs!
1. Integrate Allowlisting with Your E-commerce Checkout Process
Our allowlisting tools ensure that claims are never placed on a channel that shouldn't receive ads for using your content. When you integrate allowlisting with your e-commerce checkout process, your customers can input their YouTube channel ID when purchasing a track, then following checkout and payment, they won't receive any claims on their channel for use of your music.

It's an entirely hands-free way to be sure your clients are never bothered with an unwanted claim, while Content ID remains active for all other channels, generating passive revenue on all other uses of your tracks on YouTube.
2. Sub-Publishers Can Use the Content ID API to Directly Release Claims and Allowlist Channels on Behalf of Original Publishers

SourceAudio's proprietary YouTube panel allows rights owners to release claims and allowlist channels in real time, and our platform powers sub-publishing distribution for millions of tracks from thousands of companies around the world. That's why we built an API that allows sub-publishers to release monetization claims and allowlist channels in real time. Following one-time authorization from the original publisher, a sub-publisher can manage claims for any of the content they distribute.
For detailed information on how a developer can leverage our YouTube Content ID API, check out the documentation page here.
3. Monetize Territory Specificity with Ease
When you monetize your tracks on YouTube with SourceAudio, you can be sure that claim ads only run when videos are streamed in the territories that you specify. Our instructions on the Content ID ingestion page tell you everything you need to know to easily designate the exact territories you want to monetize. You can even set up worldwide monetization and select the territories that should be left out.

Additionally, our Custom Rules allow site admins to easily designate different territory specifications for certain tracks by album, artist, label, catalog, composer, or publisher. For the most precise degree of specificity, a CSV spreadsheet import may be used to designate territorial monetization on a track-by-track basis.
4. Export Claims Reports to See Where Your Tracks are Being Used
We make it simple to obtain detailed information on any of your tracks' claims. Head to the admin panel > YouTube Content ID > Claims, and click Export Claims in the top right. Set your desired date range, and whether you want to see only active, released, or all claims. Then click to export. A CSV spreadsheet will download immediately containing each claim's date and time that it was placed, claim ID, video ID, channel ID, video title, channel title, release status, a link to the video and channel, and essential metadata for the claimed track. You can also export claims data from the YouTube Earnings sub-tab to export a CSV containing each claim's amount payable and number of views for the selected month, as well as the track's YouTube Asset ID, title, ISRC code, label, artist, and composer.
Questions about YouTube Content ID?
Reach out to our support department at support@sourceaudio.com