SourceAudio YouTube Content ID Interface Tour
Get an inside look at the tools used to track assets and manage claims.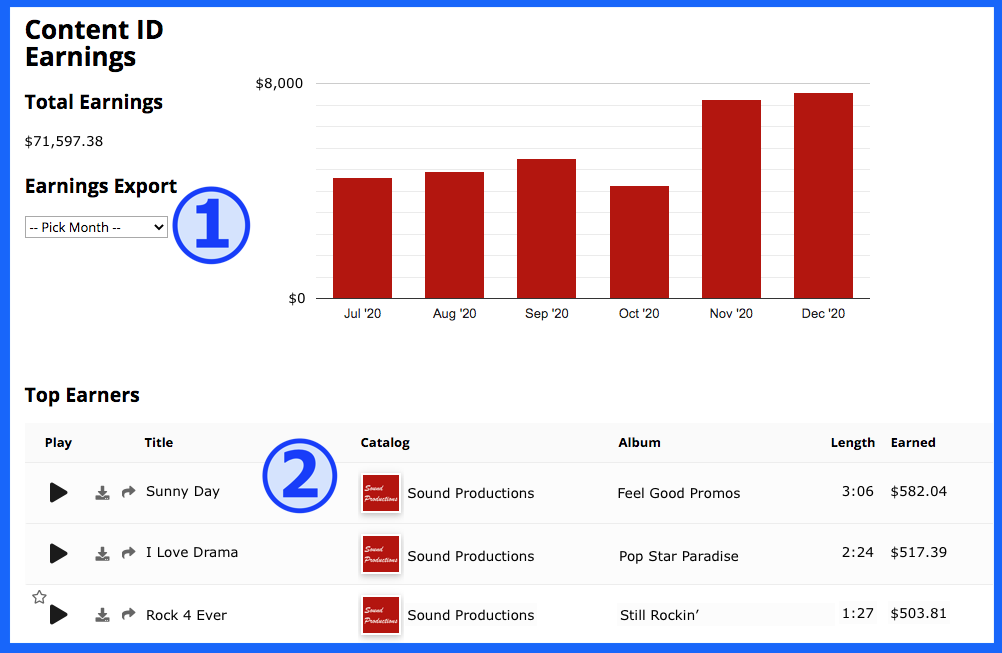 The Earnings Panel
Select a month (ex. March '20) to export a CSV spreadsheet of all the tracks that generated revenue that month, including the total view count and the amount payable.
Get a quick look at the top performing tracks with each track's all time total earned, plus links to play, download, and share. View 5, 10, 25, or 50 tracks at a time, and scroll through pages of listings to view all ingested tracks.
---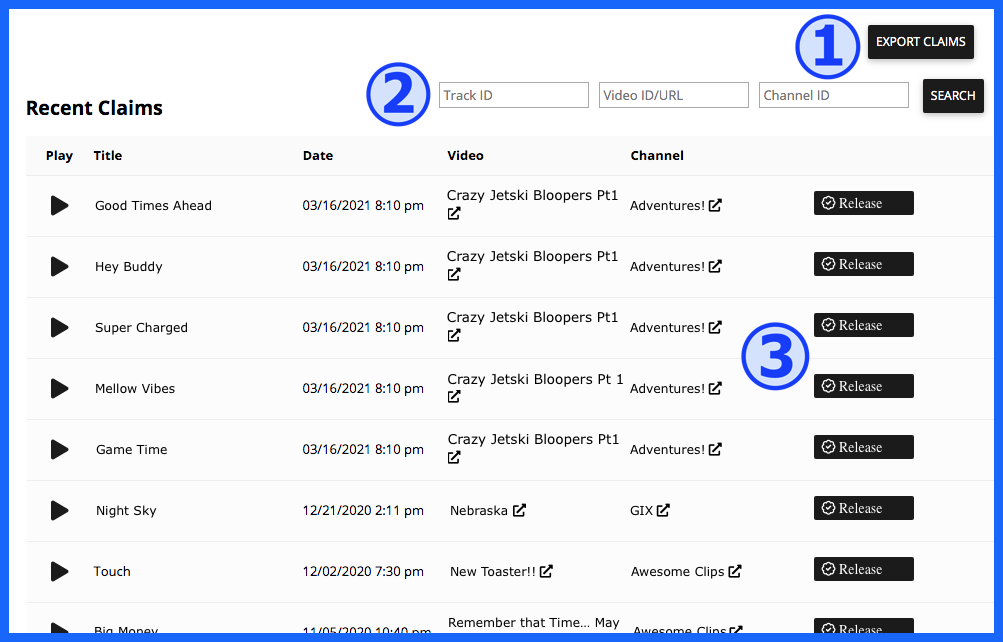 The Claims Panel
Click Export Claims to export a CSV of all claims created within any specified time period. Export only currently active claims, only released claims, or both.
Search for claims by SourceAudio ID, claimed video ID, or YouTube channel ID, and the claims list will show only those claims.
Instantly release any claim by clicking the Release button. We provide the date and time the claim was placed as well as links to view the claimed video and corresponding channel to get a closer look at the claim as needed.
---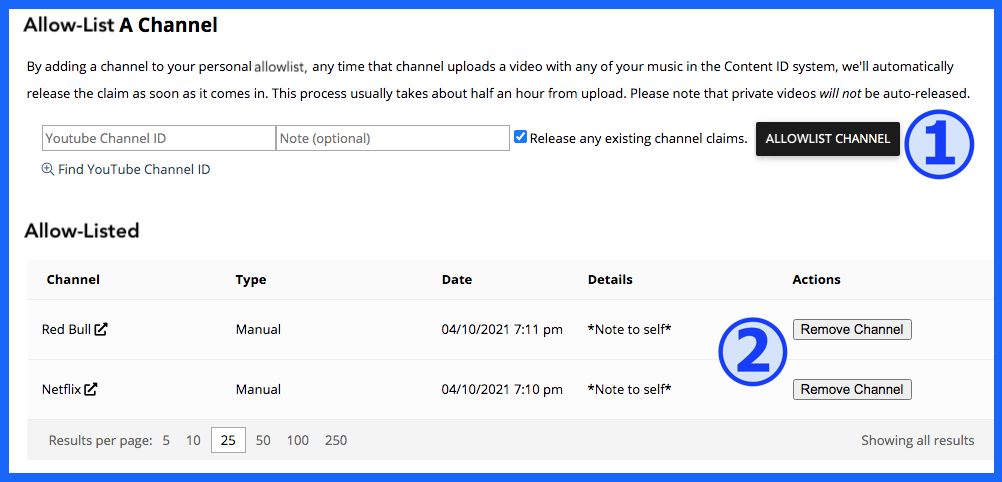 The Allow-Listing Panel
To allow-list a channel, just enter the channel's channel ID and a note if you'd like. We offer an easy-to-use channel finder just below the YouTube Channel ID field to streamline the process – just click the link, search for the channel, and click to allow-list. You can also grab a channel's ID manually from the end of the channel's URL (ex. youtube.com/channel/UCT3h1LLqq5WRDrwR-vZRZgw).

Before allow-listing any channel, review the checkbox to the right of the allow-listing entry fields. Leave it checked if all currently existing claims on that channel should be released, or uncheck it if you'd only like to prevent new claims from being placed. Then click the Allow-list Channel button, and that's it – videos on the allow-listed channel that use your music will no longer be claimed!
Revoke a channel's allow-listed status at any time by clicking the Remove Channel button on its line listing. Once a channel's allow-listed status has been revoked, newly uploaded videos on that channel that contain music in Content ID will be claimed normally.

Plus quick, seamless ingestion – load your tracks into Content ID straight from SourceAudio. No additional uploading required.

Email sales@sourceaudio.com to get started, and collect your YouTube royalties at 100-0 split for the first 90 days!