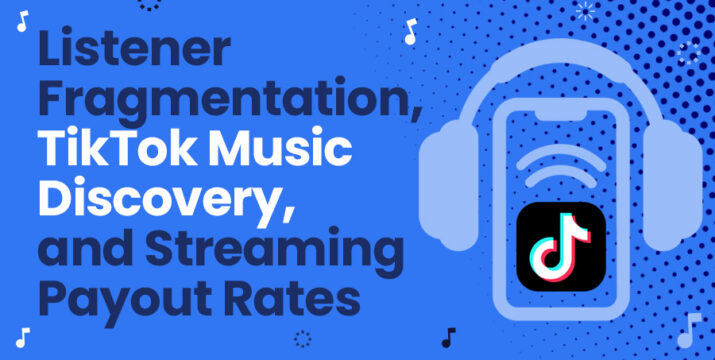 Listener Fragmentation, TikTok Music Discovery, and Streaming Payout Rates
2021 has been an eventful year in the music industry, driven by tech as a mechanism to retain a sense of normalcy in an uncertain future. Here's a look into some of the most telling headlines from the shifting landscape of the music business.
Listener Fragmentation
Mega-hits don't seem to be hitting like they used to. Despite millions more people joining paid streaming services each year, the most globally streamed song at the mid-year point of 2021 amassed significantly fewer hits than the biggest streaming hits from recent years.
Data from MRC half-year industry report reveals that the biggest track of the first half of 2021, "Drivers License" by Olivia Rodrigo, totaled 460.2 million on-demand audio streams during the first half of 2021. Looking at prior years, that figure is a steep drop from the number one songs of 2020 (728.7 million), 2019 (596.1 million), and 2018 (655.0 million). Meanwhile, music streaming usage continues to rise, as paid services add 100 million new subscribers in 2020 according to Midia Research.

This shift backs up the common consensus that audiences are becoming more fragmented and diverse as the entertainment landscape shifts to empower creatives with fewer boundaries and faster turnover than ever before.
TikTok Music Discovery
TikTok is the music discovery engine of 2021. 75% of users say they discover new artists through TikTok. With a total of 732 million monthly active users according to TikTok for Business in April, that's 549 million people discovering new music on TikTok.
TikTok has long sought to become a driving force in the global music market, or as Ole Obermann, TikTok's Global Head of Music, explains, "TikTok has become an integral part of music discovery, connecting artists to their fans and introducing brands to every corner of the community."
TikTok's adoption as a venue for emerging musical trends is evident through the "heard it on TikTok" movement, describing the phenomenon where certain songs are specifically associated with TikTok-native culture.
TikTok's 732 million monthly active users put the app at more than double Spotify's 356 million user count.
For more information on TikTok for musicians, check out our complete music professional's guide to TikTok.
Streaming Payout Rates
The amount that streaming companies pay out per stream continues to be a hotly debated issue at the center of the music industry, and artists are slowly gaining ground in their fight for higher rates.

This past April, Apple revealed in a letter to its artists that the service pays 1 cent per stream to it's artists, a major milestone in the big-name streaming economy.
Per-stream payouts across platforms can vary greatly, from less than a tenth of a cent to surprisingly high rates from some unlikely sources for music streaming like Peloton. Twitch and Facebook remain among the top platforms for per-stream payouts on audio-visual content, which many artists utilize to supplement their earnings.

Ultimately, the best way for an artist to maximize their revenue is to be sure that they're capturing all their available royalties, including performance and mechanical royalties, YouTube Content ID monetization, and neighboring rights.