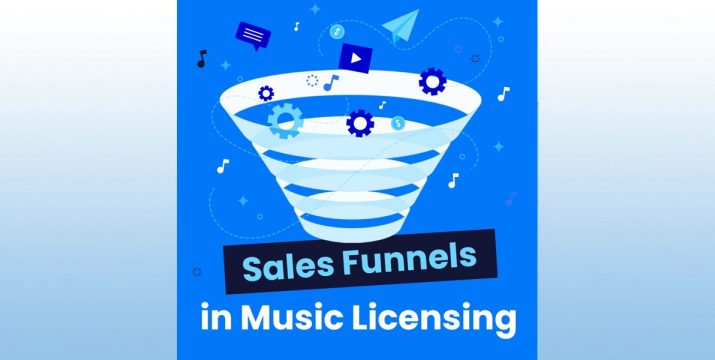 Sales Funnels in Music Licensing
The sales funnel is a core concept in marketing across any industry where a transaction takes place. It's a visual metaphor designed to help companies understand effective selling, illustrating the customer's journey from initial awareness of a product to the action of making a purchase.
Why a funnel?
The imagery of the funnel and its wide-to-narrow shape illustrates how the beginning of the sales process sees the greatest volume of potential customers, also known as leads. The funnel is widest at the top where the initial step of awareness is taking place. As a company's marketing efforts work to push potential customers through the funnel to become sales, it becomes more narrow, as not every individual who was made aware of the product will seriously consider purchasing it. As the journey of consideration towards purchase continues, there will always be some clients dropping off until the bottom is reached where the prospective customers decide to purchase, completing their journey through the funnel.

By understanding the key points of the journey through the funnel, companies can push leads through more effectively, and identify weak points in their funnel where they are losing the most people.
Listed below is the sales funnel journey, broken into its four most essential sections and applied to a modern music licensing, supervision, or any kind of music supplier or rights management company.
Awareness
Awareness begins with the first impression a company makes on a potential customer. Get noticed by reaching out and networking with SourceAudio buyers to initiate a working connection. Beyond the platform, a paid advertisement, a referral from another brand, or a Google search listing are some of the most common places this contact is made. Funnel optimization starts here– investigate which discovery methods lead to the most sales and invest accordingly.
In any discovery situation, the goal of the first impression is a clear and simple communication of value for the potential customer, commonly referred to as the "value statement". Let them know that your service is exactly what they're looking for. In the case of music licensing, this means conveying that the music being offered can do an exceptional job of supporting their brand's story.
Interest
In the second phase of the sales funnel journey, a company should work to build the potential client's interest in the product. Connect with buyer sites so you can receive their pitch requests and deliver on your value statement by meeting the client's exact needs. These opportunities move quickly, as productions often operate on very short notice deadlines, so a fast turnaround on a brief can go a long way to building a rapport with a buyer.
If your site has an information page, you can give detailed accounts of successes seen from past clients that have used this music, and then back up these claims with data or vivid supporting information. Present this content in a clear, easy to digest manner so that your prospect is always enjoying the time they spend interacting with your company.
In some cases and depending on your sales model, a great way to push potential customers through the funnel is to offer a free trial. If your initial value statement resonates strongly with the reader, use a free trial to effectively rearrange the funnel, tapping into the decision phase and transitioning right back into interest building. Placement of this offer is key, so if a free trial is introduced very early in the sales funnel, be sure it's an "opt-in" trial, meaning payment info is not required to start the trial. Asking too much too soon with potential customers can often drive them away.
Decision
When the potential customer has thoroughly gotten to know the product, they will inevitably arrive at a point of decision, to buy or not to buy. Gain a clear understanding of what this crucial point looks like for the potential customer, and create a frictionless purchase experience, meaning, it's very easy for a client to sign up.
In addition to a purchase, many companies see success by offering lesser decisions for their customers like the free trial, or an email newsletter. Offering these low risk options and providing value in response to an affirmative decision is a highly effective way to keep a potential customer moving towards a sale. Far better to cycle a prospect back into the "interest" phase then to lose them completely.
An email newsletter can be a great place to deploy customer incentives like a SourceAudio coupon code that can help influence a positive decision. Just make sure you're not bombarding prospects, and if possible, tracking their interaction to gauge what level of outreach works best.
Action
The act of purchasing a license or advertised service is the final stage of the funnel. Reward this action more so than any other to keep your customers coming back for more. Insider offers for returning customers can do wonders to foster customer loyalty.
Once you've made a sale, leverage SourceAudio's robust in-house data studio for rapid growth. Analyze actions from your biggest clients with detailed reporting on their play and download history, plus individual track stats and search trends to identify your most popular material.
Use powerful and easy-to-install analytics add on's to identify patterns in site traffic and figure out the best sources for high-quality conversions ("conversion" meaning they've been converted from a lead to a client, and "high-quality" meaning they are likely to purchase a high volume over their lifespan as a customer).
Now that you've got a handle on the sales funnel, you can get started building awareness, informing your leads, influencing positive decisions, and driving action to build a strong base of clientele.
Thursday, 3 September 2020