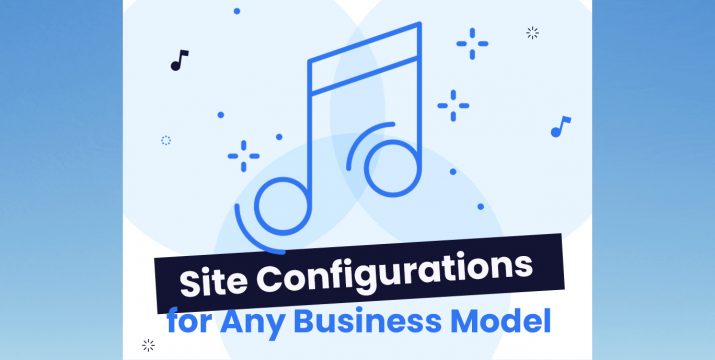 Site Configurations for Any Business Model
The SourceAudio suite provides tools that are essential for many different kinds of music businesses. We've broken down this wide array of business models into three main categories and laid out how the site can be tailored to suit each type of business and accentuate a brand's unique strengths.
Labels, Publishers, and Composers
Music management companies working in synchronization licensing have been at the core of SourceAudio's design since the beginning. Our flagship features like search, file delivery, metadata management, pitch sending, and syncing tracks to buyers and sub-publishers are just some of the features that have quickly become must-haves in the field. No matter the specifics of a rights management company, it's easy to tailor a site to suit the exact needs of their operation.

Access
SourceAudio sites offer complete control over the site visitor's access permissions. Set how much, if any, of your site a new visitor can see before requesting a user account. Manually approve account requests or configure your settings so that they're automatically approved. Companies can even set their site to only auto-approve requests from emails with a certain domain so that trusted collaborators can skip the vetting process and never miss a deadline. Yet another integral sign up customization is the control over what information is requested from a new user when requesting an account. Ask for key sales information, or just stick to the basics.

Royalty Collection and Passive Income Sources
Our revenue generation programs provide vital income sources to rights management companies with the click of a button. Making these kinds of arrangements for licensing in radio or podcasting used to be a complex and time consuming process, but now radio, podcast, YouTube, and global PRO royalty collection all function as a simple opt-in from one centralized ecosystem. Ineligible for one or more programs? No problem, enroll in only the programs that fit your business.

Choose Your Site Pages
Deep customization options are essential for fully branding a site. Pages of a site can display a selection of material by artist, album, track, or display an HTML or CSS customized page, just to name a few of the many options available. The flexible interface is controlled using intuitive site builder tools, and our dedicated support team is available full time to get your site exactly where you want it.

Alibi uses a page of curated playlists as their landing page, while Strike Audio simply uses the track explorer. HD Music Now and The Eggplant Stereo both used the SourceAudio homepage-builder to create their landing pages.
Statistics and Data Collection
Comprehensive data on site visitors and audio assets is available in our robust statistics panel. If a company is only looking at their sales, they may only be seeing part of the picture. Dive into these statistics to identify untapped potential and optimize your sales funnel to more effectively meet demand. 

Our data services also go beyond the platform. Need to keep track of on-air broadcast placements?  SourceAudio Detect is exactly that.  Looking for in depth reporting and claim management controls when your music is used on YouTube?  Our YouTube Content ID suite is exactly what you need, especially if your licensing business leans into our second business category.


Mass Marketed Licensing
The proliferation of small budget media productions has led to a massive demand for "micro-licensing", affordable music licensing for various online platforms. While a traditional synchronization license likely involves a hands on, service based experience, micro-licensing is all about automation and attracting droves of customers. Activate e-commerce to get all of the following features, in addition to the standard features of a rights management company site, for the total micro-licensing experience.
Streamlined Usage-Based Licensing
Activating e-commerce changes the on-site licensing process from a contact form to a self-serve shopping cart check out. Build out usage-based rate cards with corresponding price points so that when a user adds a track to their cart they select their usage and get charged at checkout accordingly. Customize your legal documentation, and assign different licensing information to different track collections as needed. List your tracks in any of over 30 major currencies supported on SourceAudio, and connect your payment processor of choice, either Braintree or PayPal, to securely process payments from any major credit card, anywhere in the world.

Brand X Music uses a detailed rate card set up to charge for their licenses. Clicking the "Add to Cart" icon on the right of any track brings up the usage selector.
Subscriptions and Coupons
Go beyond single purchase pricing with subscriptions and download coupons, both only available with Braintree. Foster recurring business with subscriptions that bill every month and provide a set number of download credits at every billing cycle. Set whether or not unused download credits roll over from month to month, and whether alternate versions of a track are included in a single license, or if they should be counted separately.

Muzicwise has both a detailed rate card set up and a highly customized subscription sign up page.

Generate coupons that are redeemable for any of the following: a specified amount of download credits, a percentage off of a single licensing fee, a percentage off of an entire cart of licenses, or a percentage off a subscription enrollment for a specified duration. Set an expiration date, or keep the coupons active in perpetuity, the possibilities are endless with these powerful e-commerce tools.

Client-Side YouTube Allow-listing
When providing a micro licensing service, the last thing anyone wants is to run into difficulties with unwanted claims placed on a legitimately licensed track. Engage our YouTube Content ID services to offer client-side channel allow-listing during checkout. All the client needs to do is enter their channel ID in the corresponding entry prompt during checkout and their channel will be claim-free when using their purchased song. The SourceAudio Content ID suite also provides complete reporting on all claims placed on usages of your tracks across the entire YouTube platform, an indispensable tool for any company that licenses for YouTube.
Add On's
Need more reporting? We've made it incredibly easy to integrate with Google Analytics, Google Tag Manager, Hubspot, Facebook Pixel, and Facebook Business Manager. Get thorough reporting on your web traffic and keep the leads coming.
Music Supervisor or Production Team
SourceAudio has become a staple throughout the production industry for music departments of all shapes and sizes. From editors, to music supervisors, to agencies, to major broadcast networks, our tools have made browsing, auditioning, organizing, cataloging, downloading, and diving back into ongoing projects easier than ever before.
All Your Music in One Place
Whether you're uploading your own music or looking to source from other companies, all this music is brought together into one centralized search portal that brings back only the material you've opted to list to your site. With over 50 million unique tracks on SourceAudio from over 1,200 different music seller companies, it's the biggest and best network of production music that's ever existed.

Get Pitched
In addition to track searches, network and buyer sites come equipped to send out pitch requests to connected sellers. Include the budget, reference tracks, a description, and hand pick which providers should get the request.

Collaborative Tools and More Essentials
Playlists and cue sheets can be converted from one to the other, and shared between users for seamless collaboration. Import local EDL files to view, edit, and store them on a user login, and export cue sheets as PDF's, CSV's, or XLSX files.
Adobe Premiere Panel
With our Adobe Premiere extension, editors, producers, podcasters, and other content creators never have to leave the Adobe environment to browse and drop in tracks to a project. Access your own playlists or playlists sent to you and drag tracks straight from the panel to the Adobe timeline. Once you've selected your soundtrack, instantly export PRO-formatted cue sheets from the Adobe panel.