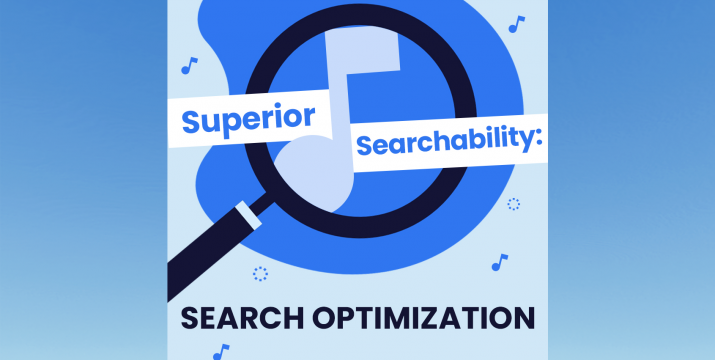 Superior Searchability: Search Optimization
In our first search feature, we broke down the many search tools available to front end site users. Now, here's an inside look at the powerful tools that site admins can use to create a great search experience for anyone browsing their library.

Above All: Metadata
Metadata is the backbone of all track searches (minus Sonic Search). When a search entry is run, the system looks for matches across all metadata; so to ensure a great track is appearing often on your clients' searches, fill it out with thorough, comprehensive metadata that contains all the terms you want the track to match to. The more of that track's metadata matches the search, the higher it will rank in the results, and hidden fields let you keep all your metadata optimization tucked under the hood.
To view a ranking of the most commonly run searches on your site over a daily, weekly, monthly, or all time basis, visit the Search Trends section in the statistics panel.

Label Weighting
Label weighting makes it easy to get your best material to consistently appear higher on searches. Use the label weighting tool to assign each label a value from 0 to 10, the higher the number, the higher that tracks from that label will rank on searches. This gradient system is great for dialing in the absolute perfect settings to best service your users' searches.
Featuring Material
Featuring is the best way to bring attention to your very best material. Featuring tracks, albums, artists, labels, composers, or catalogs brings those listings to the top of any list where they would otherwise appear in the middle of the list. For example, when you head to your albums page, the featured albums will always appear at the top. When you run a track search, the featured tracks that match that entry will always appear at the top. You can even set the order of the different items you've featured so that your absolute favorite shows up first, followed by the next best, etc. 
Comments
A music supervisor is looking to capture a feeling in their soundtrack, but how are they supposed to know where to skip to in a track to find that perfect moment? Admins can add time-stamped comments to their tracks and point out key moments in the cue. Comments appear as markers along the tracks' waveform and expand as the song hits those marks, or just hover over any marker to expand the comment and read the text.
Site Layout
In addition to the search tools described above, a great site layout can do wonders to streamline the search process. Easily set site pages that display listings of artists, composers, catalogs, labels, genres, tracks, or published playlists. Build an inviting landing page with the SourceAudio homepage builder, or create a custom page with HTML, CSS, or with our easy to use tools that don't require any coding at all. Read more about setting up your site's layout in our recent post, Site Configurations for Any Business Model.
Want to get your tracks into a music buyer's library, showing up on searches run by production studios, trailer houses, and music supervisors? Check out The Buyer Network, Sub-Publishing, and Networking Online.