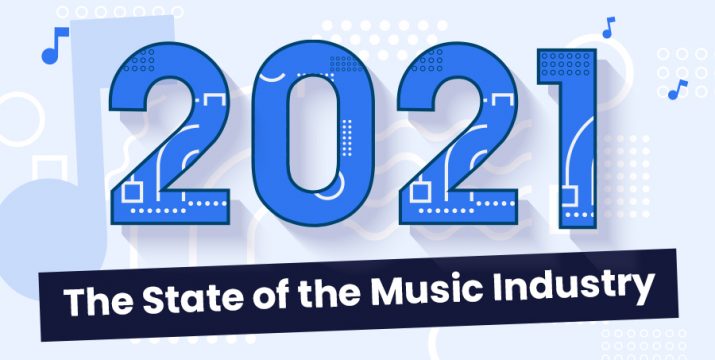 We've compiled the following nine integral music news stories to provide a comprehensive picture of the industry moving into the new year.
1. Erasing Discrimination
Data from Google Trends highlighted a key moment in an ongoing cultural shift when, in the first week of June, "how to be an ally" was searched 50 times more than "how to be an influencer."
The impact of anti-racist action entering 2021 is evident throughout the music industry from major label contract negotiations to the replacement of harmful or triggering industry terminology. The son of the iconic late singer, Isaac Hayes III plainly states, "Black people do not need the music industry; the music industry needs Black people."
2. Live Streaming Pays Off
With the help of massive production teams, major artists have done an exceptional job of capitalizing on the livestreaming business model.
One Dua Lipa livestream show in 2020 sold over a quarter million tickets at $10 each, while BTS grossed approximately $20 million for their virtual Bang Bang Con event.
Of course, the end of physical limitations isn't just for superstars. Platforms like Patreon, Maestro, and Twitch are offering the ever-expanding population of DIY artists everything they need to create a fully monetized concert experience for virtually connecting with their fans.
3. The Fight for Fair Royalties
The battle for higher per-stream payouts rages on as creators plead with and protest against streaming giants like Spotify. Though it's yet to achieve profitability, Spotify consistently ranks as the most popular of the music streaming services, spending well over half a billion in podcasting acquisitions and touting a stock price that more than doubled in 2020, successes which have contributed in spurring criticism for its financial policies with artists.
The UMAW (Union of Musicians and Allied Workers) is one of the front runners in the fight for higher streaming rates with a petition asking for 1 cent per stream, just over double the current rate.
4. ASCAP and BMI Launch SONGVIEW
The two oldest American PROs recently announced the launch of their new search tool, Songview, which aggregates the two companies' catalogs to provide detailed copyright information for more than 20 million songs.
ASCAP's official press release states, "SONGVIEW technology allows ASCAP and BMI to seamlessly display an agreed-upon view of detailed, aggregated and reconciled ownership data for performing rights ... The information is accessible, free to the public, on both ASCAP's and BMI's websites." The BMI site reads, "When you see the Songview checkmark next to a song, you know that the songwriters, publishers and ownership shares shown on the ASCAP and BMI websites are accurate, reliable and consistent between the two PROs."
Try out Songview from either ASCAP's site here, or BMI's here.
5. Icons Sell Off Their Catalogs
Bob Dylan sold his publishing rights for $300 million, Stevie Nicks sold a portion of hers for $100 million, David Crosby, Barry Manilow, Blondie, The Killers, and Imagine Dragons have all sold off a portion of their rights for a lump sum.
Uncertainty in a rapidly changing industry has made the sale of publishing rights a common choice for major artists, especially as the Biden administration proposes doubling the federal tax rate on capital gains, further incentivizing artists to make a sale before the tax rate goes up. David Crosby tweets, "I can't work, and streaming stole my record money." He explains, "I have a family and a mortgage and I have to take care of them, so it's my only option. I'm sure the others feel the same."
6. Brand-Artist Partnerships
Branding partnerships for artists have never been as common, as lucrative, or as important as they are today.
In one year, Travis Scott has signed partnerships with PlayStation, Nike, Anheuser-Busch, Fortnite, and McDonald's. Other high-profile collaborations include Lady Gaga and Oreo, Selena Gomez launching an ice cream flavor, and both Bad Bunny and Post Malone teaming up with Crocs for signature shoe releases.
Based on the effectiveness of these campaigns for all parties involved, it appears that these influencer campaigns on steroids are here to stay as artists continue to reinvent their monetization.
7. Accelerating Globalization
"Since ... our first K-Pop playlist in 2014, listeners have streamed more than 180 billion minutes of the genre ... In the last six years, the share of K-Pop listening on Spotify has even increased by more than 2,000%" says Spotify in their South Korean launch announcement. The Swedish streaming service will be launching in South Korea in the first half of 2021, making them one of many companies broadening their global reach. Over the last 18 months, Universal launched Def Jam in Africa, South-East Asia, and the UK, while Sony Music launched Epic Records in France and grew A&R in East Africa and South Africa. All over the world, major music companies are branching out and voicing their intent to engage with local markets, and Chinese companies are no exception, driving massive expansion into the US.
Tencent, the Chinese multinational technology conglomerate, led a consortium to purchase 20% of Universal Music Group in 2020, among other major buys. Meanwhile, TikTok's parent company ByteDance, whose last valuation topped $140 billion according to CB insights, has announced its foray into "AI drug discovery", making them only the latest Chinese tech giant to enter the field and providing possibly the most futurist headline we've ever heard.
8. Success in Collaboration
Collaborative releases have been on a steady rise over the past decade according to Chartmetric, with an especially pronounced spike over the past three years. The appeal of cross-promotional audience exchange is clear, especially when dealing with fervent, niche followings, but like so many sectors, 2020 threw a major wrench into artists' ability to meet and collaborate. Thus, collaborative software has become a widespread necessity.
While seasoned professionals already possess the know-how to set up a remote session, young artists and hobbyists in 2021 might opt for something like Collab to bring their project to life, Facebook's user-friendly music video collaboration app that first emerged in May and launched out of beta and into the app store in December.
9. The Growing Creator Sector
The "long tail" phenomenon (first published by Wired in 2004) describes how a shift from brick and mortar to a more efficiently connected web-based infrastructure provides an ecosystem where a wide variety of niche markets can thrive. The analysis cites then-up-and-comers Amazon and Netflix, and its principles have never been more relevant than they are today.
The influx of creators from Gen Z and younger will only be accelerated by hype from companies aiming to capitalize on the needs of tomorrow's internet stars, whether it be sample packs for beatmakers, the now ubiquitous influencer economy, or any software solution that allows us to create and stay connected.
Until AI learns to write a decent song (which hasn't happened yet), creators, not corporations, will continue to be the engine that propels the music and media ecosystem in 2021 and beyond.