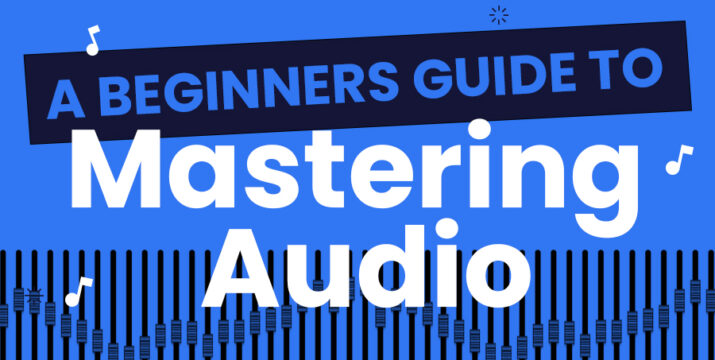 Looking to try your hand at mastering? Check out our guide to the basics of mastering!
Mastering is the final step of the audio production process. It's the work done following a completed mix where the finishing touches are placed on a track's EQing, processing, and final level setting.
Different schools of thought might suggest that it's best to hand over your track to a fresh set of ears and a fresh perspective (someone other than the mixer) for mastering, but if you're on a budget, you can learn enough to master your own tracks with just what's in this article!

It all begins with a mindset. What are you trying to accomplish musically on this track, along with the technical settings? Especially in the case of beginners, choosing the right reference tracks is key to setting good goals and ending up with the desired final product on your mastering.
Then the first step within the track itself is to listen through the track without changing any settings along the way. Note if there are any imperfections that need to be fixed in the mix. Listen on both headphones and studio monitors. Depending on the distribution plans for the track, you may even want to listen on a laptop, smartphone, and through a car's speakers. Note if there are any sections that need to be volume adjusted to sound the way you want them to in relation to the other sections of the track, and make sure there's no clipping, pops, hisses, or distorting that need to be touched up in the mix.
Next up are any adjustments to the tonal balance of the track. A good first step is finding a plugin that analyses the different frequency range levels for you to compare against professionally released tracks of the same genre. After getting your footing with a plug in, you may find that you prefer to rely more on your own ears for managing the idiosyncrasies of your track.
If you do find EQ adjustments that need to be made, use broad, minor adjustments with an EQing tool – nothing more than about 1db and nothing too targeted to take out a resonance or anything like that, which should have been done in the mixing process.

Additionally, a professional mastering job should utilize a hi-pass filter to take out the very lowest frequencies below the lowest bass note. Not only will this get rid of mud, but it will create more headroom by getting rid of that useless signal. Then you'll usually want to fade the very beginning and end of the track so there's no abruptness when the track comes on or ends.

Once that's all done, you as the mastering engineer may decide to apply subtle creatieve effects as a sort of secret ingredient or finishing touch on the mix. This is completely optional, subjective to taste, should be done cautiously, and is by no means always necessary, but in some cases, a track may find its missing ingredient at this final stage after all other mixing has been done. A tube saturator or some compression may help level out a very dynamic track or warm it up a bit, just make sure the levels stay constant when applying additional effects.
Finally, use an application in your DAW to set the LUFS. Note, if you're distributing to streaming services, they'll typically lower the levels to -14 LUFS if it's any higher. As such, pushing the track louder than that for the sake of loudness isn't necessary.

Use a limiter to accomplish this, perhaps one made specifically for mastering. Inside your limiter, make sure the ceiling isn't any higher than -1db, because artifacts and other issues can arise if it's even -0.9db. Then lower the threshold until your mix hits around -14 LUFS. That's it! Of course quiet parts will be quieter and louder parts will be louder than 14, but for the best results, most mastering engineers will shoot to put the average at about -14.
Export the audio at the required bit rate, and that will be your final product. Congrats – you've just mastered your track!
A gentle reminder – you might be experiencing listening fatigue after mixing your track when you go to master the track. If so, take some time away from the track before diving into mastering, make sure you're in a creative mindset. Mastering is an incredibly important process in the production of a track. It's not just a technical process but a creative and highly musical one as well.
Of course, there's no one way to master a track. Some engineers like to work "backwards" through the mastering process, setting the level then applying effects and EQing. Another technique is to run through the subjective mastering steps very quickly, and repeat them as needed to avoid overthinking your choices. There's a lot to work with when mastering, so try to keep it as simple as possible from the get go, and as you get more practice, you'll develop your own tricks and techniques for your own sounds and styles.