SourceAudio already makes participation in the YouTube Content ID system simpler than ever and we've just taken it one step further:  Tap into detailed revenue & performance reporting with our fully-integrated reporting dashboard that's now available to all Admins on the network. With this new reporting dashboard you can have a live look into your total revenue earned to date, the total number of videos you have claimed in the system, your top performing videos & tracks, and detailed monthly revenue reports.
For those of you who are already enrolled in the YouTube Content ID System program through SourceAudio, you can see your reports right now in the new "YouTube Content ID" section of your Admin Panel. You'll have historical performance data in there right now so have a look and pull any reports you need. For those of you who aren't on board with SourceAudio's YouTube Content ID System program you're probably missing out on this great revenue stream for your business. SourceAudio makes file uploading and video claiming easier than ever - just contact Dan or Andrew to let them know you'd like to get started and we'll take it from there. No need to provide updated hard drives or anything on your end - we've got your music files on our cloud servers already so the hard part is already done. We'll sync your music over to the YouTube Content ID System and you can simply sit back and watch your revenue performance through this new dashboard and reporting feature. We know there are several libraries already on board who are earning thousands of dollars each month through this program so if you want in on the action and you'd like to track your performance through this great new reporting tool just let us know and we'll get you all set up!
A fairly common question we get from clients is, "How do I integrate my SourceAudio site into my main site so that it feels like it's all part of the same site experience?". We know that libraries and publishers have business needs to support beyond music search and delivery. Running two sites in parallel has its obvious issues and creates a disjointed experience. So, we have 2 great solutions that will allow you to manage just 1 single site on the SourceAudio platform and it will give you the ability to meet all of your business needs in one single location:
Solution 1: The built-in home page experience
We created this tool to allow site owners to create a marketing-focused home page that integrates many marketing-centric features nicely into the front-door of your music search and delivery site. Here are two working examples of sites that have their built-in home page experiences set up nicely:
To get started with this feature on your own site just go to Admin Panel > Custom Pages > Home, and you'll see the tools for each page section right there. You can also easily create new custom pages for things like contact info, video reel embedding etc. in that Custom Pages section too. The home page and custom page tools use a simple WYSIWYG interface that allows you to do pretty much anything you'd like to do on your home page and custom pages. From publishing blog posts to embedding music & video players to posting basic details about your company and how to contact you, the home page and custom page tools allow you to do everything. Here is a quick video walk-through on how to set up your new built-in home page experience:
Solution 2: Custom Development Services
Some libraries, publishers and composers want an even more custom front end on their home page so for these clients we offer our custom development services to help them achieve their goals. Here's a great example of one site on our platform that gave us a great front end design and our dev team integrated it into their site's home page: Noise Heap . The nice guys at Noise Heap provided us with the design and our development team pulled it together for them. We're all really happy with it.
To proceed with this custom home page option we simply encourage you to find a designer, work on your ideal page layout, look and feel, and then contact one of us over here at SourceAudio to obtain a quote.
If you have any questions about how to tap into everything SourceAudio offers you to achieve your desired results for an integrated home page experience, feel free to contact us at anytime!
As everyone is well aware, a lot of tracks have many versions: Full, 0:30, 0:60, no drums, etc. These alt versions come in a variety of names and forms but they almost always need to be related back to the full mix. To handle these full mix/alt mix associations, we created what we call our "nesting" tool. The nesting tool is simple. When a full mix has alt mixes associated to it you'll see a small "+2", "+3" and so on icon to the right of the title in all line listings just like this:
That icon indicates to the user that this full mix has several alt versions associated to it. The example track in the screenshot above has 6 alt versions under the full mix. When a user clicks the "+6" icon, the alt mixes will expand right in place without leaving the page. The user can then preview/audition those alt versions right there in-page just like any other track on the site.
How To Nest Your Tracks
You can nest your tracks in 3 easy ways. All methods require you to have all of your tracks uploaded and published to the site before you begin. There isn't a way to nest during the upload process; nesting occurs only after your tracks are up on the site.
Option 1: Use the "Manage Alternates" tool on your track detail pages
To use nest tracks using this option, just click on the title of the master version of the track you wish to start with as the full mix. Then click "Manage Alternates" down below the metadata to enable "nesting" mode on your site. Next, click the little blue overlapping circle icon next to the title to nest/un-nest the alt versions. You can cruise all over the site from page to page adding and removing alternates. When you're done nesting alt versions under the full mix, click "Done" at the top of your screen and you're finished. One thing to note: Nesting can take a few minutes to take effect on your site. We're writing these new nesting relationships to the cloud so please be patient and refresh after a few minutes to see your updates take effect.
Option 2: Run the "Nesting Script" in your Admin Panel
This option is more advanced. It's results also vary based on how you structure your song titles. The script is great, and it picks up most master/alt relationships, but it's not perfect because it can't account for every song title naming convention under the sun. Overall it's pretty darn good though.
Before you decide to run the nesting script we ask that you check to be sure your titles are somewhat close to the most widely used title naming convention we built the script to accommodate. Your titles should look something like these for the best results:
"This is the Song Title" = Full Mix
"This is the Song Title 30" = Alt Mix 1
"This is the Song Title 60" = Alt Mix 2
"This is the Song Title No Perc" = Alt Mix 3
...and so on.
The alts above don't necessarily appear in that exact order but the nester looks for the full song titles/filenames and then grabs other versions of that title that indicate that it is likely an alt version like "30", "60", "no drums" etc. The two biggest issues we see that cause the nesting script to fail are these:
1. You're trying to nest tracks that don't have the same filename and title pattern/convention. "Being close" unfortunately won't work because the software needs to recognize a consistent pattern in order for it to work properly.
2. You include the word "Full" or "Master" at the end of the full mix. That often triggers the script to think that this "Full" version of the track is actually an alt version because of the additional characters on the end. Make sure you leave "Full" and "Master" out of your filenames/titles and you're set.
Lastly, you can always run the script and then you can use Option 1 above to go back in and perform any manual clean up that's needed. The script is great for nesting your whole site and the Manage Alternates tool is great for clean up and nesting smaller batches of tracks. To access this nesting tool, go to Admin Panel > Manage Metadata > Nesting and you can start nesting catalog by catalog.
Option 3: Use the 'Master ID' field in your metadata spreadsheet importer to tell the system specifically which tracks belong together
If you haven't attempted options 1 and 2, or you feel like they didn't get you the results you  like, there is one last option that's guaranteed to get you the results you're looking for. Go into your Admin Panel > Manage Metadata > Export Data and export your track data to a csv. When you open the spreadsheet look for a column in there called "Master ID". In this Master ID column you'll include the SourceAudio ID of the full version each alt version belongs to. SourceAudio ID's are the 7 or 8 digit number in the first column on your spreadsheet. Simply paste the ID of the full mix into the Master ID column for each track that is an alt version of that full mix, save, import and you're set!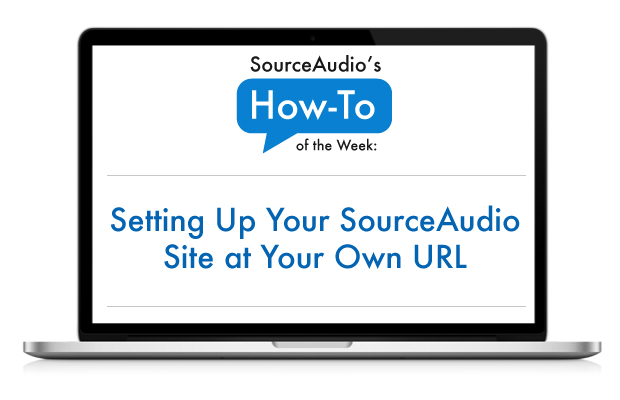 While every SourceAudio site comes with your own URL like 'mylibrary.sourceaudio.com', we also support custom domains so you can point any URL you own at your SourceAudio site. Once your custom URL is set up your site will run entirely within your domain and the URL your users see will always be your own. Setting up your own custom URL is primarily a task between you and your domain host. There is a one-time setup fee on our end of $100 and there is a $3/month ongoing fee only because there's a hard cost to us for adding more domains to our DNS setup and security certificate.
To proceed with setting up your SourceAudio site at your own URL, please follow these instructions:
To host your site at your own URL, we need you to initiate the setup through your domain host and then we can connect it together on our side. You'll need to login to your domain host account (eg. GoDaddy, Dreamhost etc.) and do the following:
First thing to note here: a very common first question in this process is, "Please just give me the new DNS coordinates to SourceAudio so I can point our URL at you guys". Just to be clear, that's not what we're doing here. We are updating CNAME records for your URL so that the site is essentially hosted under your own domain, and your domain isn't just simply pointing/redirecting to us.
Step 1:
To get started we need you to set up one DNS record with your domain host. Login to your own domain hosting account (GoDaddy, etc.) and set up a CNAME reference for 'www.<your-domain-goes-here>.com' that points to 'web3.sourceaudio.com'.
Here's an example:
Say you own the URL 'mylibrary.com' and you want your URL for your site to be 'music.mylibrary.com'. You'll simply need to set up your CNAME reference for 'music.mylibrary.com' that points to 'web3.sourceaudio.com'.
Step 2: 
Please verify that the email address associated to your domain hosting account is one you have access to and check regularly. To verify the email address associated to your account, go here and run a search for your domain: http://www.networksolutions.com/whois/index.jsp . If the email address you see on the results page is one you check all the time, you're ready to go. If the email address you see is not one that you recognize, login to your domain host account and update your info accordingly. When we add your new custom URL to our security certificate an email will be sent to the email address your domain host has on record asking you to approve this request. We cannot dictate where this email goes. It has to go to the email address associated to your domain host account for security purposes.
Once steps 1 and 2 above are complete just shoot us an email know and we'll submit the request to have your domain added to our security certificate. Then, you will receive the email from your domain host asking you to approve/confirm the URL settings update and at that point it's all done.
One quick tip: You'll know you've set it up correctly on your end when you load your custom URL in a browser and the page you see looks exactly like this one: http://testing.sourceaudio.com/ . Same white background, same black text - exactly like that very simple looking page. Once you see that you know you're done and we can finish the setup.